Michael R. Baker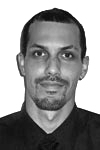 Michael R. Baker
Sr. Marketing Specialist & Client Development Manager

Mike was recruited as a Marketing Specialist for Strategic Legal Web for his extensive knowledge and industry-specific expertise in the legal industry. Mike has been the part-time administrator and marketing manager for three respected law firms in Maryland since 2003.
Mike brings experience, focus and understanding of the legal industry that few in the marketing field possess.
Michael attended Montgomery College in Rockville, MD.