Mobile Response
GLOBAL INTERNET DESIGN COMPANY CREATING EFFECTIVE MOBILE WEBSITES FOR LAWYERS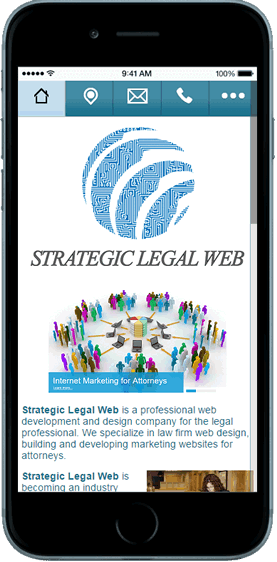 The most recent Pew Research data shows that two-thirds of adults in the United States use a cellphone or other mobile device to browse the web. That means that when a potential client researches your law firm on the Internet, the odds are that he or she is doing it on a mobile device. In the past five years, it has been increasingly important for law firms who want to aggressively market for clients to have a mobile site to compliment their main website. At Strategic Legal Web, our web designers create and code mobile device websites to meet the challenge of the current wave in digital information dissemination. Our mobile websites are designed to provide a smooth, clean viewing experience for mobile device users. Like our webpages, Strategic Legal Web's mobile device sites are search engine optimized to increase your law firm's Internet profile. Call today to learn more about advantageous new marketing opportunities for your attorney website.
The Latest Trend in Online Marketing
Just as Internet webpages became a necessity in the late 1990s and early 2000s, mobile websites have evolved from being a niche luxury to a key component in any comprehensive attorney marketing campaign. The reason for this technological shift is the fact that most conventional websites are designed to be viewed on desktop or laptop operating systems. And while mobile devices have come to be thought of as small computers, the operating systems in cellphones and tablets are quite different than those found in their larger counterparts. That's why when you view a conventional website on a cellphone, you experience slower loading times, pages that do not entirely fit the screen, and connected links that are often difficult to open. At Strategic Legal Web, our mobile websites work well on smart phones and digital tablets, like the iPad, Nook, or Kindle Fire. Most conventional websites function on mobile devices at some level, but mobile websites are custom coded to load quickly and respond to the touchscreen interfaces that are prevalent on today's smart phones and computer tablets.
Full Service Online Marketing and Branding for Lawyers and Law Firms
As an attorney web design firm with clients in all fifty states, Strategic Legal Web has remained on the forefront of the changes and developments that have made Internet-based marketing campaigns the most effective tool in advertising. Like our computer websites, our mobile websites are elegantly designed, fast, and attractive to cellphone and tablet search engines. To begin enjoying the benefits of a mobile website, contact one of the design specialists at Strategic Legal Web. Our number is 1-800-508-4489.