Tony Arrieta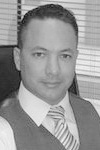 Tony Arrieta
Director
Strategic Legal Web is Tony's vision. Since its inception, he has dramatically scaled its infrastructure and broadened its suite of services: catering to legal professionals, while maintaining a culture of unparalleled innovation and teamwork. Tony's drive to expand the company's relationships with its clients and strategic partners is why Strategic Legal Web is a market leader in the area of attorney/law firm website design and development.
Over the last eighteen years Tony has held sales and sales management positions with multinational corporations such as Lanier Worldwide, EMC Corporation, and Thomson Reuters.
Tony has created a culture at Strategic Legal Web in which every member of the team understands the importance of offering our valued clients the guarantee of realistic, honest advice that achieves positive results, while also making an immediate impact on their law firms' core Internet business operations.
In an environment where professionals think outside of the box to develop, customize, build, and implement law firm Internet marketing solutions, it's an insistence on excellence, combined with a commitment to the highest ethical standards of business conduct, that makes Strategic Legal Web a formidable player in the law firm advertising field. Never being satisfied with maintaining the status quo, SLW strives to make an immediate impact for its solo attorneys and law firm clients by helping them project a clear message that reaches a targeted market, which ultimately results in a thriving online presence.
Tony earned a Bachelor's of Science degree in Economics, Social Science, and Political Science from Florida State University.