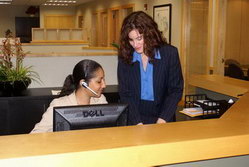 Strategic Legal Web is a professional web development and design company for the legal professional. We specialize in law firm web design, building and developing marketing websites for attorneys.
Strategic Legal Web is becoming an industry leader, building and custom web-designing legal and law firm websites that reflect the Internet essence of the individual lawyer or law firm. Our experience has taught us that an attorney's Internet presence is often more important than his or her traditional brick and mortar location. When a potential client is referred to an attorney, more often than not, he or she will check out the law firm and compare its webpage to others in the same legal field. Other potential clients will randomly search the Internet for an attorney to represent them in their legal dispute. For these reasons, having a professional, well-crafted webpage is crucial to the continued success of any attorney or law firm.
What We Offer

Professional Website Design
Most potential clients who visit your website will judge you or your firm solely by the look of your webpage. Strategic Legal Web understands the importance of making a good first impression. After all, this is the first time that your client has ever met you. With over a hundred law firm websites, our designers know how to work with you in order to portray the feel, look, and message of your practice.
Customer Service
Strategic Legal Web offers personalized customer service that is always only a phone call away. We understand the special demands associated with lawyers. We make accommodations because your professional website represents you, your firm, and the type of practice that you have worked so hard to build.
Development & Management of a Digital Professional Legal Brand
Digital Professional Legal Brand (DPLB) is a legal web industry term that refers to a website's properties with regard to its delivery of the law firm's value proposition and client experience messaging. Properly managing a firm's DPLB is paramount in increasing its visibility across a wide array of digital media. The dissemination of information about the firm is controlled by our clients and administered by Strategic Legal Web as part of our service agreement. Our technical expertise guarantees that your Digital Professional Legal Brand will be properly developed and maintained and that all directory and listing efforts will be coordinated as part of your overall web development plan.

Law Firm & Attorney Web Design & Marketing
Our team at Strategic Legal Web understands the importance of capturing the online visitor's attention with exceptional design and focused content that compels the potential client or the referral to pick up the phone and call you in order to obtain your law firm's services. Strategic Legal Web is the premier attorney web design and Internet marketing organization focusing on legal and attorney client development.
Top links for your website's placement are crucial to your webpage's success. Competition has never been as fierce as in today's online world. The online client looking for legal help "Now!" generally accepts the first few results displayed and makes a decision based upon the attorney or law firm that conveys a clear professional message about its services and firm attributes in a compelling and understandable manner.

Marketing and Search Engine Results

We have experts that specialize in coding legal websites with the latest search engine optimization tools. Strategic Legal Web follows the latest Internet standards allowing for the most sophisticated online marketing campaign services for the "solo attorney," medium law firm, or the largest law firm websites. We offer full service comprehensive website analytics, Internet advertising and submission, and statistical reporting.

Logo Design and Branding

Our expert designers offer creative unique logo design along with your firm's distinctive branding. Our individually tailored designs demonstrate your firm's passion for the law and clearly define your areas of practice and expertise.

We work hard for the success of every one of our lawyers and law firms. Our clients' success means our success. Every attorney or law firm that signs up a client through the hard work and dedication of Strategic Legal Web brings us closer to OUR next law firm.
Strategic Legal Web's success is dependent on how you feel about our performance and how well we create a custom legal website that achieves the goals and results that you require for your law firm.
Please call us at 1-800-508-4489, or fill out our Contact Us form.