Mobile Website Advantages
INNOVATIVE AND ADVANCED INTERNET MARKETING SOLUTIONS FOR ATTORNEYS AND LAW FIRMS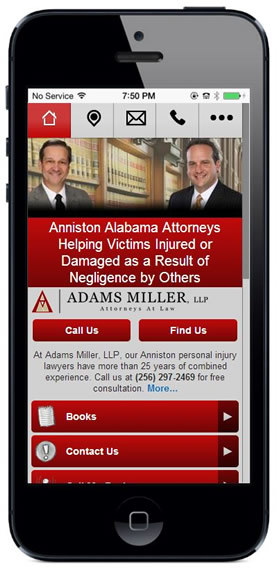 Nearly all internet browsers utilize a smart phone or computer tablet for at least some of their web browsing. However, when it comes to calling or locating businesses, like an attorney's office, nearly all internet users will access websites through their phones. Unfortunately, if your law firm does not have a mobile website, your client may experience difficulties trying to find your phone number or location. Strategic Legal Web creates powerful, fast mobile websites for our attorney clients. Our mobile sites are responsive and designed to provide the easy to find and easy to use features the mobile users want, while at the same time provide full access to your entire site. Contact one of our mobile web designers to open up new marketing opportunities for your law firm.
Advantages to Having a Mobile Website
As internet marketers, the Strategic Legal Web team believes that our attorney partners are best served when potential clients can view their web pages from either a traditional computer or a mobile device. We encourage most of our existing accounts to include a mobile website as a companion to their existing web pages. The advantages to this approach are numerous.
Enhanced Download Speeds – If you have ever tried to view a non-mobile web page on your phone or tablet, you have probably experienced the frustration of longer download times. That's because conventional web pages are not specifically coded for mobile devices. A mobile website downloads up to several times faster on a smart phone than a conventional web page does.
Improved User Experience – When viewed on a mobile device, desktop webpages frequently load unevenly—sometimes the content even appears to be jumbled. In addition, links are designed to interact with a cursor, so touching the screen does not always activate them. A mobile site works well with a cell phone's layout and the touch screen interface found on most of today's tablets and smart phones.
Click-to-Call and Mapping – With a mobile site, your clients can touch a button and call your office. When they are driving for an appointment, they can click "directions" and it will automatically interface with their phones' GPS applications. Because most businesses have these features, your clients and potential clients have come to expect them.
Branding and Marketing – Your law firm's websites are a part of your clients' and potential clients' experiences and perceptions of your practice. Like your business cards and letterhead, your mobile website is another way to make your brand standout in the legal community.
Professional Attorney Web Designers for Mobile Sites
While not all law offices have mobile websites yet, it is rapidly becoming the industry standard. Having a functional mobile website is a way to keep your mobile device clients on your web page and away from your competitors' sites. To learn more about this effective new tool for internet marketers, contact the web-marketing specialists at Strategic Legal Web. Our number is 1-800-508-4489.